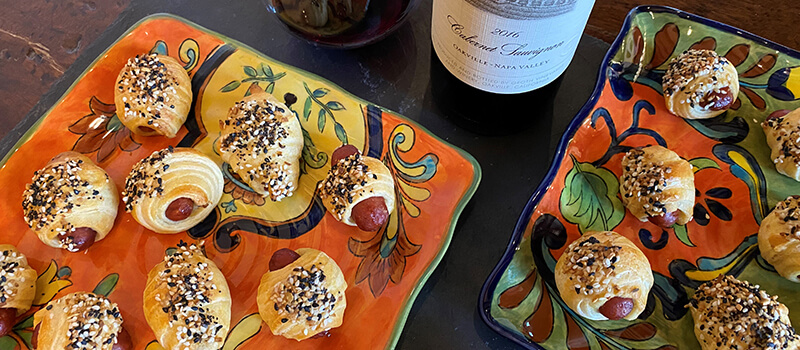 Wine-friendly bites
for watching the Big Game
With football's biggest day upon us, we asked Groth employees to share recipes for their favorite foods to nosh while watching the Big Game (or the ads, if you prefer). After some delicious research in the Groth test kitchen, we've chosen three treats that are not only tasty, but also play remarkably well with our wines.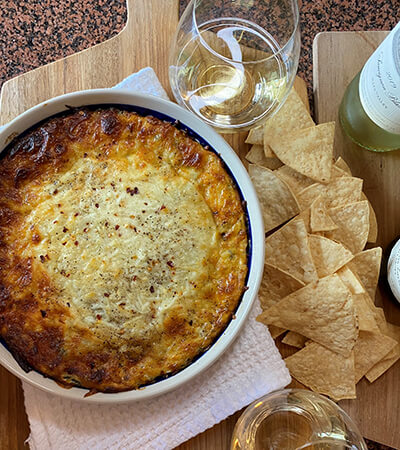 Hot Spinach Artichoke Dip
Groth Southern California Sales Manager Christie Brunick is famous for her spinach artichoke dip with three cheeses. This bit of melty cheese heaven is superb with Groth Sauvignon Blanc or Chardonnay.
Ingredients:
½ cup grated Parmesan-Reggiano cheese
1 cup shredded mozzarella cheese
1 8-ounce package of softened or whipped cream cheese
1 cup mayonnaise
½ cup sour cream
2 garlic cloves, minced
2 chopped green onions (light green and white parts)
1 can artichoke hearts, drained and chopped
1 frozen package of chopped spinach, thawed and drained
Dash of Worcestershire sauce
Salt and pepper to taste (You can choose to add a few dashes of red pepper flakes for heat.)
Chips or crostini for serving (Chips should be thick cut.)
Instructions:
Preheat oven to 375 degrees.
Stir all ingredients together, and place in an appropriately sized casserole dish.
Sprinkle top with extra mozzarella or gruyere.
Bake uncovered for about 25-30 minutes until cheese is golden brown.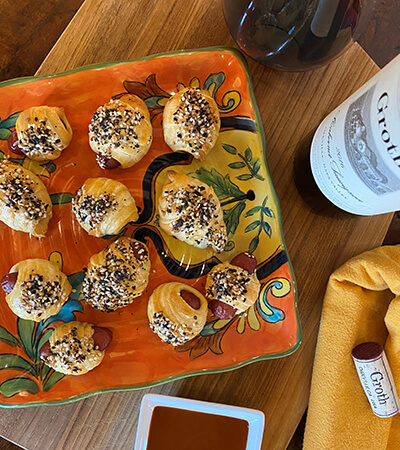 "Everything"-Spiced Pigs in a Blanket
These savory bites are hard to resist and pair deliciously with Groth wines, red or white. 
Ingredients:
1 14-ounce package smoked cocktail sausages
1 8-ounce package crescent dough pastry sheet
2 tablespoons Dijon mustard, plus more for dipping
2 tablespoons "everything bagel" seasoning
1 egg
Instructions:
Preheat oven to 375 degrees.
Lay pastry sheet out on cutting board and cut into 16 long, thin, triangular slices.
Brush pastry with Dijon mustard.
Roll one cocktail sausage in pastry, beginning with the thicker end of the triangle.
Brush rolled-up end with egg wash, and lightly dip in the "everything bagel" seasoning.
Place on parchment-lined baking sheet, and bake for 12 minutes or until slightly brown on top.
Variation:
Substitute chicken sausage with garlic and artichoke (or other gourmet sausage) for smoked cocktail sausages.
Serve with dipping sauce made by mixing 1/2 cup sour cream, 1/2 cup mayonnaise, 3 tablespoons Dijon mustard and 1 tablespoon whole-grain mustard.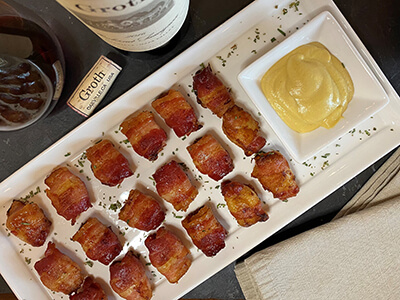 Bacon-Wrapped Water Chestnuts
With just two ingredients, this recipe is easy to execute but packed with flavor.
Ingredients:
1 12-ounce package center cut bacon, sliced in half
1 8-ounce can whole water chestnuts
Instructions:
Preheat oven to 375 degrees.
Wrap each water chestnut in a half-slice of bacon, and place on a parchment-lined baking sheet. (You may want to secure bacon with a toothpick.)
Bake for 10 minutes (or until desired doneness), flipping once after 5 minutes.