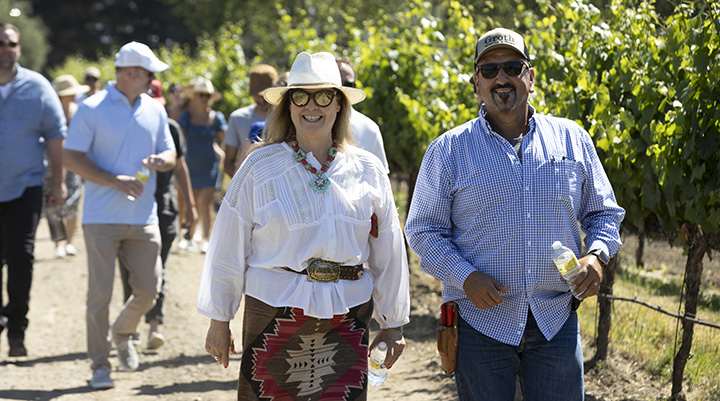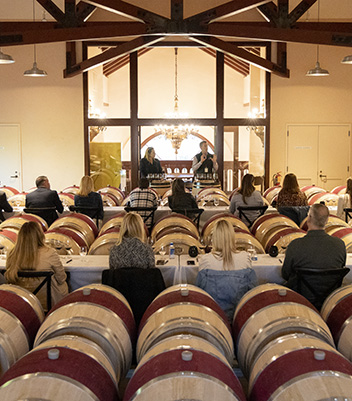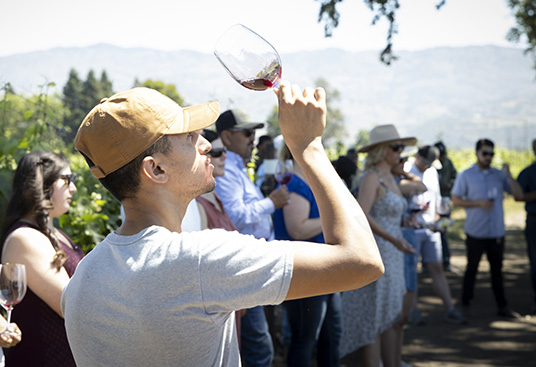 OAKVILLE
SUMMER SCHOOL
Join us for a master class in Oakville Cabernet. This intimate educational series takes you behind the scenes, in the cellar and among the vines with hands-on topics such as "The Art of Blending," "How Wine is Grown" and "The Magic of Harvest." Each unforgettable session promises expert insights, hands-on experiences and extraordinary wine.
To be the first to learn about our 2024 Oakville Summer School series, join our mailing list.
Offered select Saturdays from 10:30 a.m. to 12:30 p.m. Reservations required.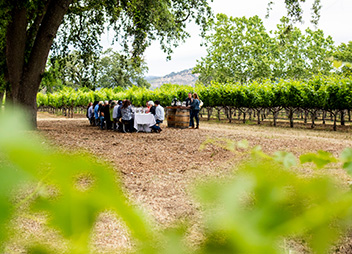 The Birds & the Bees:
How Wine is Grown
Saturday, July 15
With Vineyard Manager Ben Forgeron
Walk the vineyards, kick the dirt and discover up close the phases of vine development. Taste Groth wines among the rows as you learn the challenges and benefits of sustainable farming and what it takes to grow world-class wine.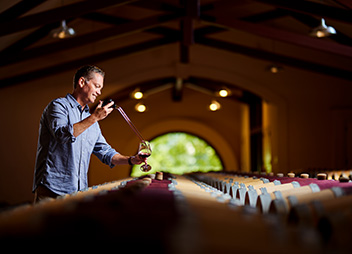 Winemaker for a Day:
The Art of Blending
Saturday, July 29
With Director of Winegrowing Ted Henry
and Assistant Winemaker Collin Dillingham
Be a winemaker for the day, blending Cabernet Sauvignon, Merlot and Petit Verdot from the Groth Oakville Estate and select grower vineyards, discovering how each variety contributes to the finished wine. Mix these components to create your most intriguing blend, then see how your signature cuvee compares to our own proprietary red.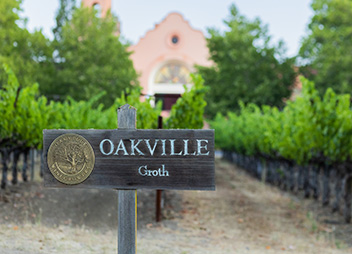 Sipping & Storytelling:
The History of Oakville
Saturday, August 12
With Dennis Groth, Suzanne Groth
and Winemaker Emeritus Michael Weis
Taste the history of Oakville — and Groth — while hearing insider stories of how this former steam train stop became one of the world's top regions for Cabernet Sauvignon. Learn how the Groth family's faith in their land, relationships with neighbors and hard work made their dream of making fine wine here a reality.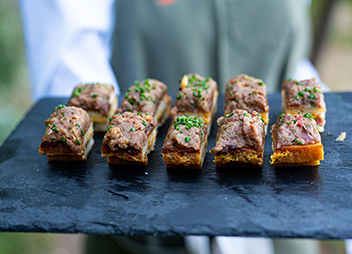 The Balancing Act:
Pairing Food & Wine
Saturday, August 26
Explore the art and science of pairing wine and food in this intimate seminar, showcasing a medley of seasonally-inspired small plates specially curated to complement our estate wines. Led by Groth Winemaker Ted Henry, Michelin-trained Chef Itamar Abramovitch and Sommelier Christina Stanley, you will delve into the essentials of flavor matching, understanding acidity and tannin balance and mastering the art of menu planning. Expect delicious bites, perfectly paired sips and expert insights to elevate your culinary experiences.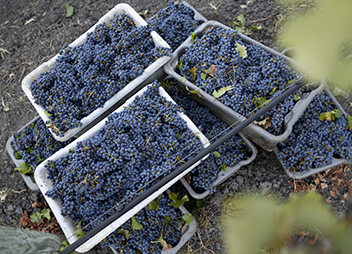 From Fruit to Wine:
The Magic of Harvest
Saturday, September 9
With Director of Winegrowing Ted Henry
There's no more magical time than harvest! Walk the vineyard with Director of Winegrowing Ted Henry to gather grapes, then return to the winery to evaluate their ripeness and predict the optimal pick date. Tour the crush pad and cellar to learn the crucial first steps of turning fruit into wine. Hopefully, harvest will already be under way, and we'll taste the first juice of the vintage, along with a beautiful selection of finished wines.
Tickets are non-refundable within 72 hours of event date, however, the purchaser may transfer the tickets to another guest.
Groth Wine Society member discounts may be applied to ticket purchases, with a maximum of four discounted tickets per member.