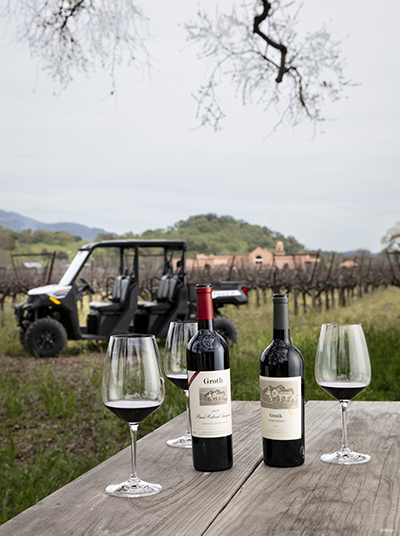 Winery Events & Experiences: New for 2023
We invite you to share in the magic of this place we call home with a new slate of winery events and guest experiences in the heart of Napa Valley. Plan your visit into our vineyard, cellar and family wine library to discover Oakville like never before.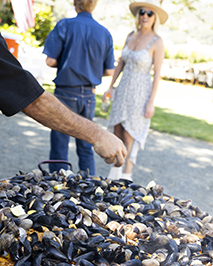 A Celebration of Groth Spring Releases
Saturday, May 20th | Noon to 3 p.m.
Join Suzanne Groth and Director of Winegrowing Ted Henry, along with our Oakville neighbor growers, for a lavish alfresco tasting lunch complete with gourmet paella and the serenade of Spanish guitar.
Memorable wines will be poured and stories told as we celebrate five beautiful new releases: a trio of single-vineyard Oakville Neighbors Series Cabernets, the latest vintage of our signature Oakville Cabernet and an elegant bottling of Chardonnay from our Hillview Vineyard Estate.
Among the Vines: Oakville Estate ATV Tour
Saturdays & Sundays | 10:30 a.m.
Starting June 17th, venture into our estate vineyards with a semi-private ATV tour! Discover the unique characteristics of our estate and our sustainable farming practices through each phase of the growing season. Sip estate-grown wines among the vines, tasting how the singularity of the site is captured in each bottle.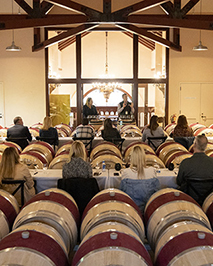 Oakville Summer School
Select Saturdays | 10:30 a.m. to noon
Join us for a masterclass in Cabernet! This intimate educational series takes you behind the scenes and among the vines with hands-on topics such as "The Art of Blending," "How Wine is Grown" and "The Magic of Harvest." Each unforgettable session is limited to 30 students and promises expert insights and extraordinary wine.
Learn more and view the schedule
Cabernet for the Ages: Library Tasting
Fridays & Saturdays | 10:30 a.m.
Visit us in Oakville for a tasting of rare library magnums that explores the complexity and ageability of Groth Cabernet Sauvignon. Discover how our Reserve and Oakville Cabernet Sauvignons evolve and unfold over time as you compare and contrast the distinct character of each vintage.