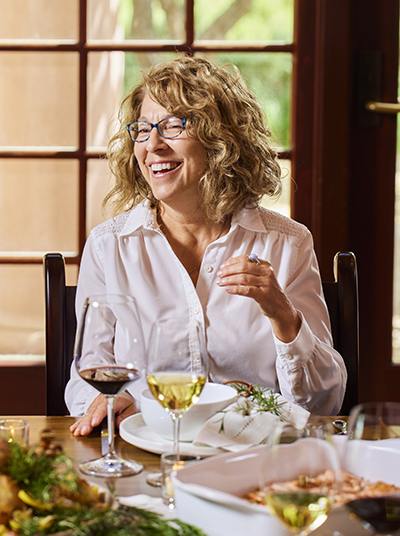 Holiday Recipe: Sue's Grandmother's Sugar Cookies
Over the past 40 years, we've been incredibly fortunate to work with an amazing team that embraces our steadfast commitment to making exceptional wines from the Oakville AVA. In this season of celebration, members of our extended winery family share their reflections of gratitude, wine pairings, and beloved family recipes.
SUE CONRAD, SALES ANALYST FOR 18 YEARS
On working at Groth: "I appreciate the Groth family are farmers foremost. The level of detail and care they put into the vineyards and then into winemaking is awe-inspiring. It is a great privilege for me to show Groth wines when I am out in the market."
Favorite holiday tradition: "Every holiday season I make my grandmother's amazing sugar cookies, and still use her cookie cutters. The aroma of the baking cookies always takes me back to her."
SUE'S GRANDMOTHER'S SUGAR COOKIES
Ingredients:
For the cookies
6 cups all-purpose flour
2 cups shortening
2 cups granulated sugar
1 teaspoon salt
2 teaspoon vanilla extract
3 eggs
For the topping
1 egg white
Additional sugar
Chopped nuts (Sue's grandmother preferred black walnuts.)
Instructions:
With a mixer, cream together the shortening, vanilla extract and sugar in a large bowl.
Add the eggs, mixing until creamy and fluffy.
In a separate bowl, sift the flour and salt, then add to the sugar and wet ingredients, gently incorporating into the mixture.
Separate the dough into fourths, then dust each lightly with flour and wrap in plastic.
Place in the refrigerator to chill for an hour.
When ready to bake, preheat the oven to 350 degrees.
Sprinkle a clean, dry surface with flour and roll out the first batch of dough using a lightly floured rolling pin.
Press cookie cutters into dough.
Remove excess dough, and transfer cookies to a sheet of wax paper.
Brush the tops lightly with egg wash, and sprinkle evenly with sugar and chopped nuts.
Transfer to a baking sheet with a thin spatula.
Bake 10-12 minutes.