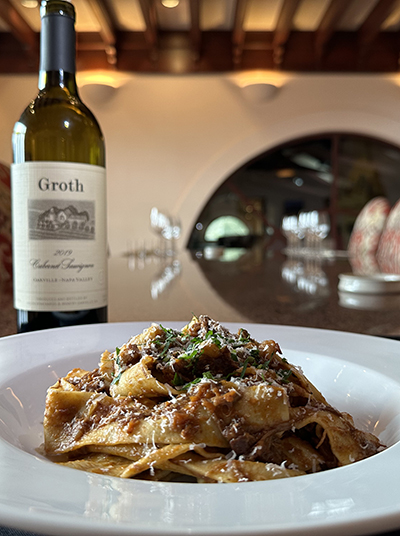 Wine Pairing Recipe: Cabernet-Braised Short Rib Pasta
Groth Wine Educator Rodrigo Gomez is a talented cook who spoils us with his culinary skills. On a recent rainy afternoon, Rodrigo treated us to his legendary Cabernet-Braised Short Rib Pasta for an unforgettable family lunch. The opulence, depth and balancing acidity of our 2019 Oakville Cabernet Sauvignon complements the dish's rich, savory/earthy flavors. And Rodrigo was kind enough to share his wine pairing recipe, perfect for early spring.
GROTH CABERNET-BRAISED SHORT RIB PASTA
Pairing: 
Groth Cabernet Sauvignon, Oakville
Ingredients:
Kosher salt
Black pepper, freshly ground
Olive oil
5 pounds bone-in beef short ribs
8 ounces pancetta, diced
2 cups low-sodium beef broth
1 large yellow onion, chopped
3 large carrots
8 cloves garlic, sliced
2 cups Groth Oakville Cabernet Sauvignon
2 6-ounce cans of tomato paste
2 bay leaves
1 Parmesan rind
1 pound dry pappardelle pasta
For serving:
Parmesan, freshly grated
Fresh Italian parsley, chopped
Instructions:
Prepare the short ribs by massaging them with olive oil, then season with salt and pepper.
In a large stock pot, add olive oil and sear the short ribs over medium-high heat.
Remove short ribs and set aside.
Preheat oven to 325 degrees.
In the same pot, add onions and carrots, and season generously with salt and pepper.
Once caramelized, add the diced pancetta, tomato paste, bay leaves and low-sodium beef broth, and stir.
Once combined and thickened, add 2 cups of Groth Oakville Cabernet Sauvignon.
Gently stir everything to combine.
Add the seared short ribs back into the pot, and fully submerge them.
Cut the rind of Parmesan, and add to the pot, submerging it as well.
Cover the pot and place in the oven for 3½ hours total.
At the 1-hour mark, remove the pot and add the sliced garlic, then return the pot for the remaining cook time.
Once the time is up, remove the pot from the oven, and place it back on the burner for safekeeping.
Start a pot of boiling water for the pasta, and follow the package cooking instructions for al dente.
While the pasta is cooking, remove the short ribs from the pot, and place in a separate bowl.
Discard the bones, and shred the meat.
Remove the bay leaves and Parmesan rind from the sauce.
Add the meat back into the sauce. (If the sauce is too thick, reserve 1 cup of the pasta water before draining and add small amounts to the sauce to thin it to desired consistency.)
Once the pasta is al dente, drain into a colander, and transfer to a large bowl.
Add meat and sauce, and stir until evenly distributed.
Plate dish for serving, topping with freshly grated Parmesan and chopped parsley.
Pour a glass of Groth Cabernet Sauvignon, and enjoy!