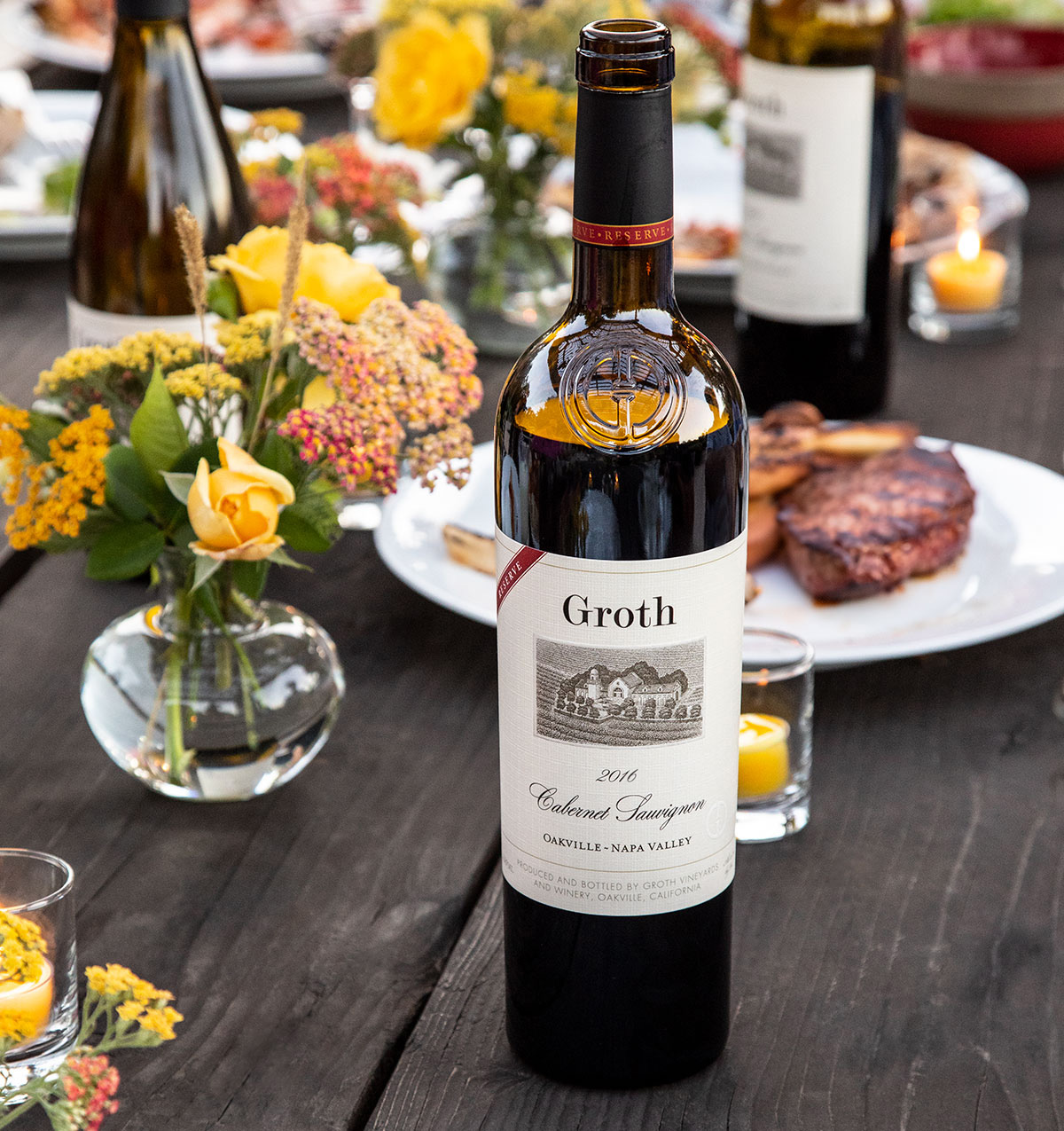 Wine Pairing Recipe: Grilled Ribeye with Herb Butter
There's no better alfresco pairing for our Cabernet Sauvignons than a thick, juicy char-grilled steak. Interwoven notes of sour cherry, red raspberry and chocolate — with a flicker of white pepper — interplay with the rich, savory meat and smoky, earthy char. The long, silky finish of coffee and dusty cocoa beckons the next sip.
This recipe for grilled ribeye and accompaniments comes from Groth Culinary Director Kimball Jones. Kimball is the author of the cookbook Sharing the Vineyard Table. He is also married to Suzanne Groth. We invite you to savor the flavors of summer, fire up the grill and uncork your favorite bottle. Cheers!
Pairings:
Groth Oakville Cabernet Sauvignon
Groth Reserve Cabernet Sauvignon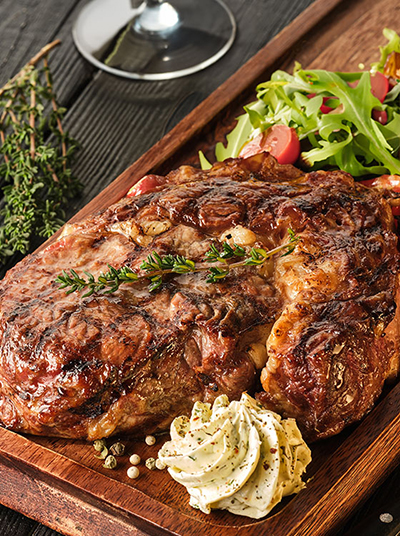 GRILLED RIBEYE STEAK WITH HERBED BUTTER
Makes 4 servings
Ingredients:
1/2 pound butter, softened
1/4 bunch parsley, chopped, washed
1 tablespoon lemon juice
2 teaspoons lemon zest
1 tablespoon minced chives
1 tablespoon chopped tarragon
Salt and white pepper to taste
2 12-ounce portions of ribeye steak
Kosher salt and freshly ground black pepper
Instructions: 
Combine the butter, lemon juice and seasoning, and knead with your hands until combined.
(Or, you can make in a mixer with the paddle attachment.)
Roll in parchment paper into a 1-inch cylinder. Refrigerate or freeze until needed. Cut into 1/2-inch slices as needed.
Season the steak with salt and pepper. Grill over medium heat to an internal temperature of 125 degrees for medium rare.
Let rest for a few minutes. Slice into 4 servings, and serve with the butter on top.
Serve with Tuscan White Beans and Arugula Salad with Parmesan Vinaigrette (recipes below).
TUSCAN WHITE BEANS
Ingredients:
1 cup Cannellini or Great Northern white beans
2 tablespoons olive oil
1 leek, white part only, minced
1/2 cup diced onion
2 tablespoons diced fennel bulb
1 tablespoon minced garlic
1-quart chicken stock
Extra virgin olive oil to taste
Instructions:
Lay the beans out on a baking sheet and sort through, removing any stones and discolored beans.
Soak the beans overnight in cold water. Heat the olive oil over medium heat in a 4-quart stock pot.
Add the leek, onion, and fennel. Cook for 10 minutes, stirring often, until softened and translucent. Do not brown.
Add the minced garlic, and cook, stirring, for a minute.
Drain the beans and add with the chicken stock. Bring the mixture to a simmer and cook at a low simmer until the beans are tender, at least 1 hour.
To serve, remove the beans from the cooking liquid. Heat slowly in the olive oil.
Taste for seasoning.
ARUGULA SALAD WITH PARMESAN VINAIGRETTE
Ingredients:
1/4 pound finely grated Parmesan, plus extra for garnish
2 tablespoons finely chopped shallots
1 tablespoon lemon juice
1 tablespoon Champagne vinegar
1⁄2 cup extra virgin olive oil
1⁄2 pound cleaned arugula
1⁄2 small head radicchio cut into fine chiffonade
Substitutions:
You can substitute various micro-greens for the arugula and radicchio.
Instructions:
Combine the Parmesan, shallots, lemon juice and vinegar.
Whisk in the olive oil, and season with salt and pepper.
Toss with the greens.
Garnish each plate with shaved Parmesan and wedges of lemon.