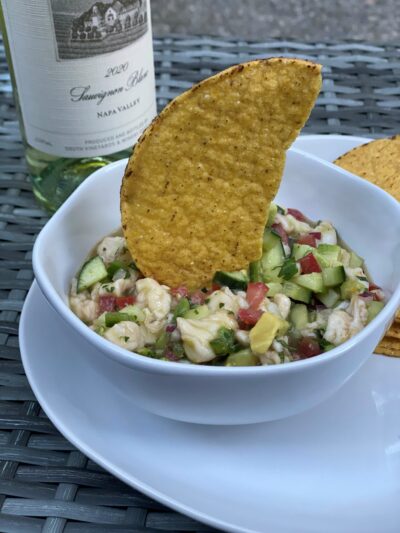 Wine Pairing Recipe: Rockfish Ceviche
Made with fresh, simple ingredients this wine pairing recipe is easy to prepare and perfect with our Napa Valley Sauvignon Blanc.
Served chilled, this ceviche is a welcome dish on a warm, summer evening. The tangy base of lime juice pairs especially well with the bright, refreshing acidity and citrus notes of the wine.
Pairing:
Groth Napa Valley Sauvignon Blanc
Ingredients:
1 pound locally caught rockfish, diced
1 cup lime juice
1 cucumber, peeled and diced
1-2 avocados, diced
2 roma tomatoes, diced
1/2 red onion, diced
1/4 bunch cilantro, chopped
1 jalapeno, seeded and minced
1/4 teaspoon black pepper or to taste
1 cup clamato juice
For serving:
16 tostada shells
Hot sauce, such as Valentina
Instructions:
Dice rockfish, and place into a large glass bowl.
Add 1 cup lime juice, stir to combine, then cover and marinate in the refrigerator 1.5-2 hours, stirring halfway through.
Combine diced cucumber, avocado, tomatoes, red onion, cilantro and jalapeno, and add to the fish once it is done marinating.
Add 1/4 teaspoon black pepper or season to taste, and gently stir to combine.
Lastly, stir in 1 cup clamato juice, mixing just to combine.
Serve over tostada shells.