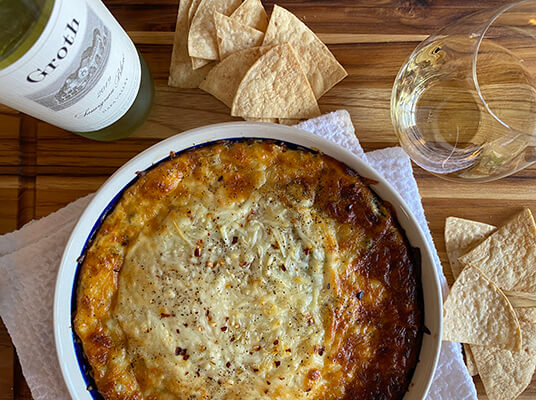 Wine Pairing Recipe: Hot Spinach Artichoke Dip
Groth Southern California Sales Manager Christie Brunick is famous for her spinach artichoke dip with three cheeses. Use this wine pairing recipe to create a bit of melty cheese heaven superb for enjoying with Groth Sauvignon Blanc or Chardonnay.
Pairings:
Groth Napa Valley Sauvignon Blanc
Groth Estate White
Groth Hillview Vineyard Chardonnay
Ingredients:
1/2 cup grated Parmesan-Reggiano cheese
1 cup shredded mozzarella cheese
1 8-ounce package of softened or whipped cream cheese
1 cup mayonnaise
1/2 cup sour cream
2 garlic cloves, minced
2 chopped green onions (light green and white parts)
1 can artichoke hearts, drained and chopped
1 frozen package of chopped spinach, thawed and drained
Dash of Worcestershire sauce
Salt and pepper to taste (You can choose to add a few dashes of red pepper flakes for heat.)
Chips or crostini for serving (Chips should be thick cut.)
Instructions:
Preheat oven to 375 degrees.
Stir all ingredients together, and place in an appropriately sized casserole dish.
Sprinkle top with extra mozzarella or gruyere.
Bake uncovered for about 25-30 minutes until cheese is golden brown.