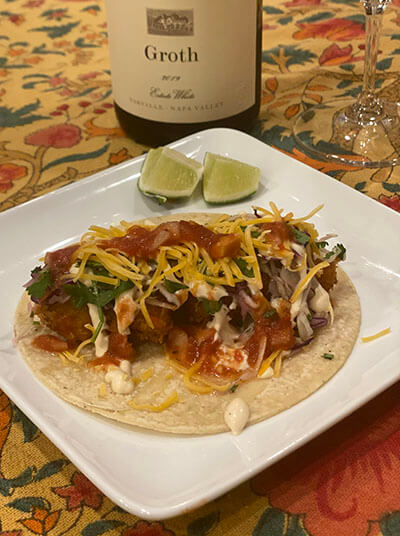 Wine Pairing Recipe: Baja-Style Fish Tacos
As spring turns to summer, what better pairing is there than the quintessential beach wine and the ultimate beach food?
While beer is often the go-to beverage for tacos, this wine recipe pairings shows Groth Napa Valley Sauvignon Blanc or Estate White makes a compelling choice for Baja-Style Fish Tacos. The vibrant acidity in both wines balances the crisp, beer-battered fish and creamy sauce, while the wines' citrus, stone fruit and melon notes nicely complement the mix of flavors in the toppings and garnishes.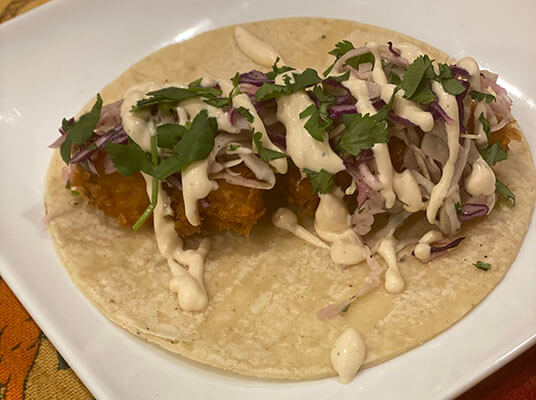 Pairings:
Groth Napa Valley Sauvignon Blanc
Groth Estate White 
Ingredients:
2 pounds rockfish, halibut or other preferred white flaky fish, bones and skin removed, sliced in to 1-inch pieces
12 medium-sized corn tortillas
3/4 head each green and red cabbage, finely sliced (mandoline recommended)
3/4 bunch cilantro, finely chopped
3-4 green onions, thinly sliced
3/4 cup Mexican crema
1/4 cup mayonnaise
8-10 dashes hot sauce, such as Tapatio
1 cup flour
1 cup preferred dark beer, such as Negra Modelo
1 tablespoon garlic powder
1 large egg, lightly beaten
1/2 cup panko breadcrumbs
3 limes
1 tablespoon paprika
1 teaspoon salt
1/2 teaspoon pepper
Vegetable oil, enough to fill frying pan at least 1 inch deep
Optional garnishes:
Your favorite salsa
Shredded cheddar cheese
Instructions:
For the slaw
In a medium-sized bowl, combine cabbage, cilantro and green onion.
Add lime, salt and pepper to taste.
Mix and refrigerate for at least 30 minutes before serving.
For the fish
In a large bowl, whisk together flour, garlic powder, paprika, salt and pepper.
Stir in egg, and gradually add beer, whisking until batter forms and is no longer lumpy.
Fill a medium bowl with panko.
Add vegetable oil to fry pan, and set to medium-high. (Wet your fingers, and flick a drop of water into the fry pan. The oil is ready when it sizzles.)
Dip fish pieces in batter, then coat each piece in panko.
Slowly add fish to oil, and fry for 1 minute on each side. Keep checking sides to avoid burning. Remove and set on a plate with paper towel to drain excess oil.
For the crema
In a small bowl, combine Mexican crema, mayonnaise and hot sauce.
Add salt and pepper, and more lime if desired, to taste.
Mix and refrigerate.
For serving
Wrap tortillas in a damp dish towel, and microwave for at least 1 minute.
Add 2 pieces of fried fish to each warmed tortilla, top with slaw and crema, a squeeze of lime and enjoy!
Servings:
Makes 4-6 servings (2-3 tacos each)