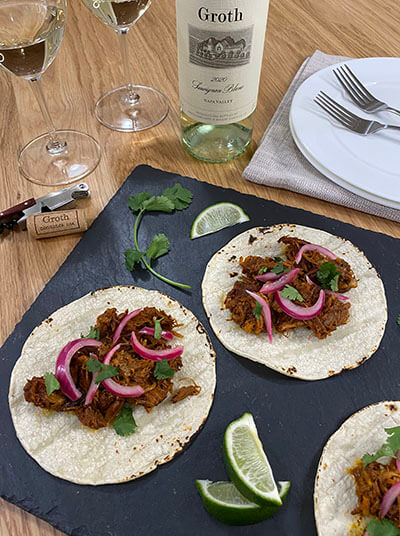 Wine Pairing Recipe: Cochinita Pibil
Cochinita Pibil is a traditional pulled pork dish from Mexico's Yucatan Peninsula in which the meat is wrapped in banana leaves, buried in a pit and slow roasted. Pork shoulder is marinated and braised in citrus juice and achiote paste until it is tender and easily shredded for tacos. This simple wine pairing recipe forgoes the banana leaves and uses a slow cooker to roast the meat.
Groth Napa Valley Sauvignon Blanc and Estate White pair deliciously with the citrus and spice elements of this dish, and both provide refreshing acidity that will have you salivating for the next bite. Groth Oakville Cabernet Sauvignon also works nicely with the smoky, sweet and tangy notes of this version of Cochinita Pibil.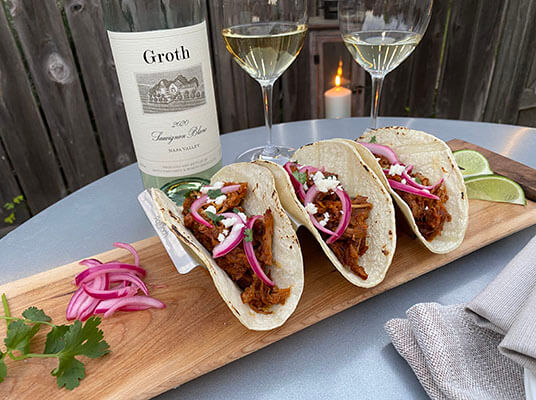 Pairings:
Groth Napa Valley Sauvignon Blanc
Groth Estate White
Groth Oakville Cabernet Sauvignon
Ingredients:
3-4 pounds boneless pork shoulder
1/3 cup orange juice, freshly squeezed
1/3 cup lime juice, freshly squeezed
1/3 cup white vinegar
2 teaspoons ground cumin
2 teaspoons smoked paprika
1 teaspoon ground coriander
1 teaspoon salt
3 tablespoons red achiote paste, available in Latin markets
Corn tortillas, for serving
Optional garnishes:
Pickled red onions (recipe below)
Dry Mexican cheese (queso seco)
Chopped cilantro
Lime wedges
Instructions:
Mix the juices, vinegar, spices, salt and achiote paste in a blender or food processor until smooth.
If the pork is tied up, remove the netting or string.
Pour the mixture in a non-reactive bowl or container, and let the meat marinate refrigerated at least 4 hours, ideally overnight.
Turn the pork at least once while marinating to ensure even penetration of flavor.
When ready to cook, place the pork, marinade and 1 cup of water in a slow cooker, and cook on low setting for 8 hours.
Once the pork is cooked, transfer from the slow cooker to a bowl or serving dish with a slotted spoon, and use two forks to shred.
Spoon over cooking juices, and mix well.
Serve with warmed tortillas, and garnish with pickled red onions, queso seco, chopped cilantro and lime wedges.
Servings:
Makes 4-6 servings (2-3 tacos each) 
PICKLED RED ONIONS
Ingredients:
2 small red onions, halved and thinly sliced
1/4 cup orange juice, freshly squeezed
1/4 cup grapefruit juice, freshly squeezed
1/4 cup lime juice, freshly squeezed
1 tablespoon white vinegar
1/4 teaspoon salt, or to taste 
Substitution:
If available, you may substitute 3/4 cup Seville orange juice for the three juices above. 
Instructions:
Combine the juice, vinegar and salt in a container with lid.
Add the sliced onion, and shake vigorously for 10 seconds.
Refrigerate at least 2 hours, ideally overnight.
The pickled onions will keep at least a week in the refrigerator.