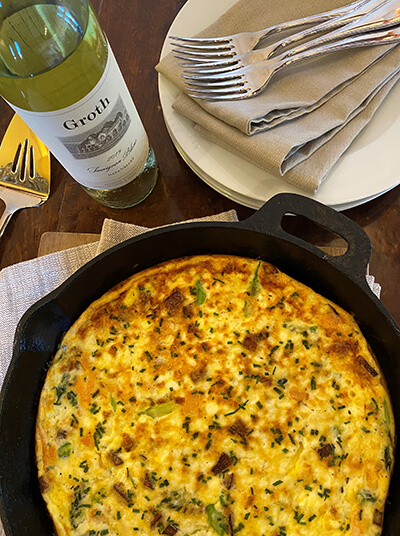 Wine Pairing Recipe: Smoked Salmon and Asparagus Frittata
Frittata is one of our favorite brunch staples, and this wine pairing recipe is an ideal match for Groth Sauvignon Blanc and Estate White. These crisp, dry whites are perfect foils for the rich smoked salmon, leaving your palate refreshed and craving another bite of this delicious dish.
This recipe comes from Groth Culinary Director Kimball Jones. Kimball is the author of the cookbook Sharing the Vineyard Table. He is also married to Suzanne Groth.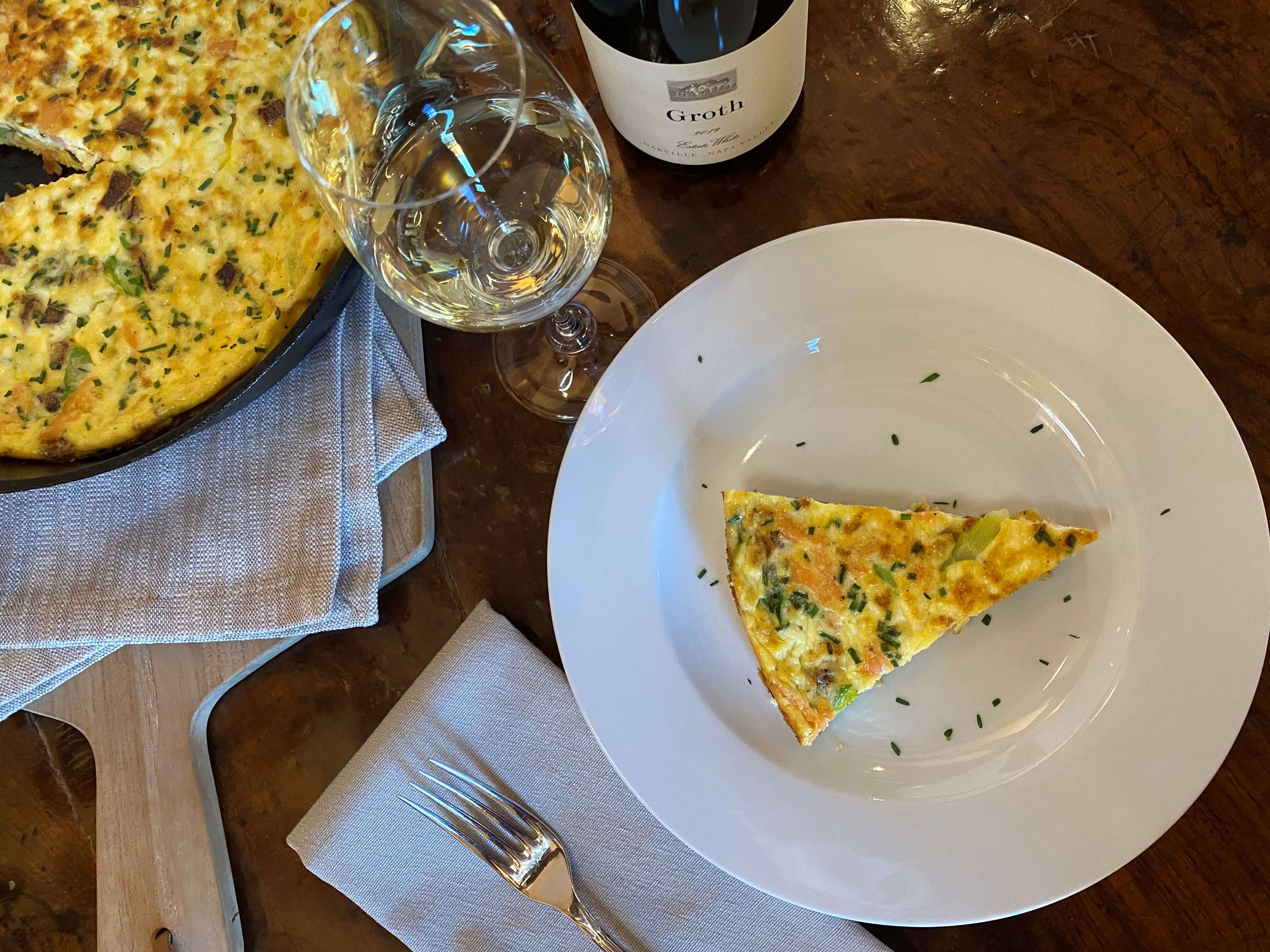 Pairings:
Groth Napa Valley Sauvignon Blanc
Groth Estate White
Ingredients:
8 spears asparagus, peeled, sliced thinly
1 tablespoon olive oil
8 ounces Yukon gold potatoes, peeled and diced into 1/4-inch pieces
12 large eggs
1 cup crème fraiche or cream
1 tablespoon chives
Zest of 1 lemon finely minced or microplaned
Kosher salt and freshly ground white pepper
4 ounces cold-smoked salmon, thinly sliced and cut into thin strips
Instructions:
Preheat the oven to 350 degrees. Bring a small pot of salted water to a boil. Add the asparagus, and cook for 30 seconds. Drain and reserve.
Heat a nonstick 10-inch pan over medium-high heat. Add the olive oil and then the potatoes. Cover, lower the heat to medium and cook, stirring every once in a while, until the potatoes are cooked through and light golden brown.
Whip the eggs until well mixed. Add the crème fraiche, chives and lemon zest, and thoroughly combine. Toss the smoked salmon and asparagus in with the potatoes. Add the egg mixture and combine. Place in the oven and cook until the center is set, about 30 minutes. Cut and serve.
Recipe by Groth Culinary Director Kimball Jones